Love Streatham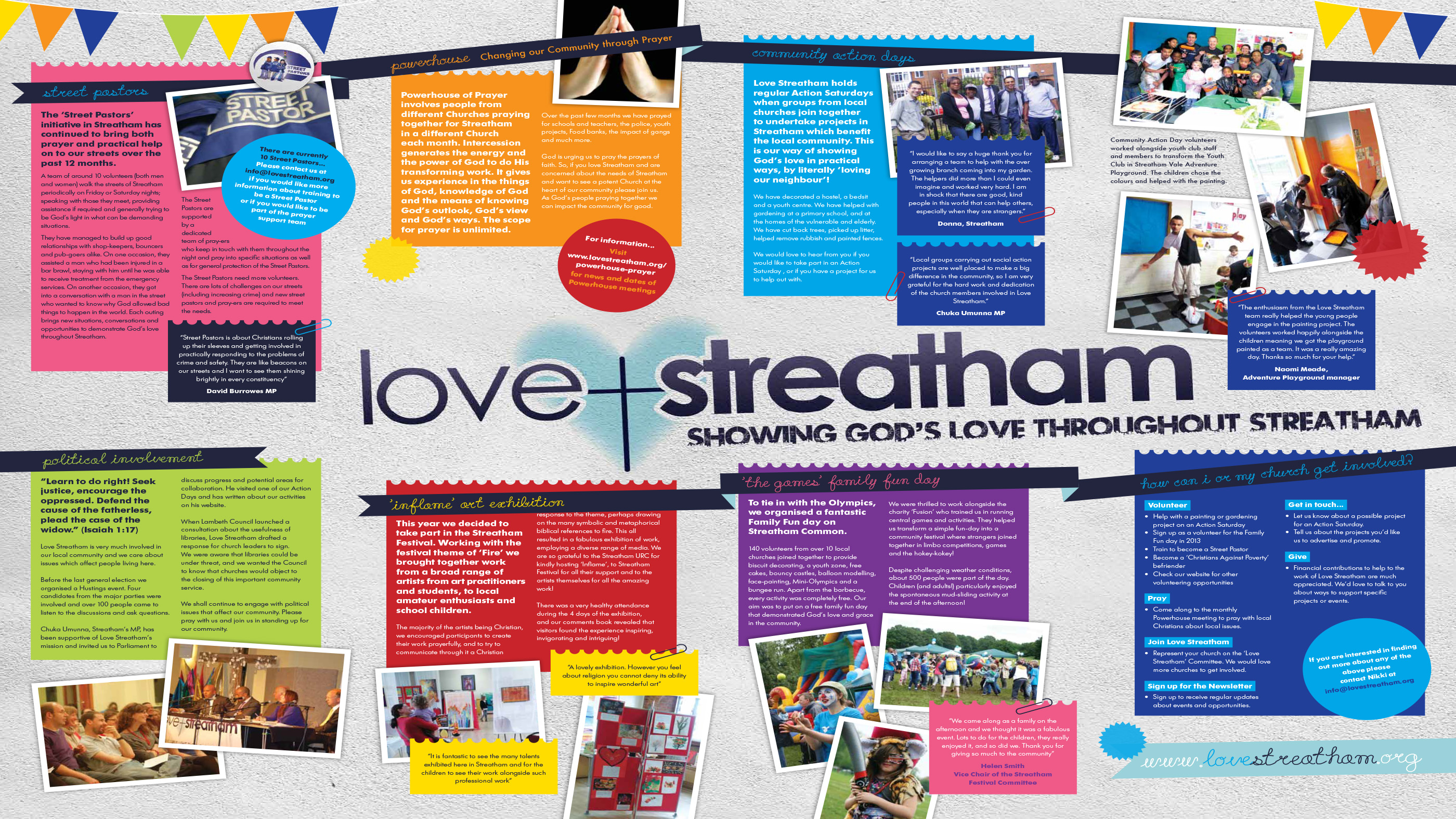 Love Streatham exists for the benefit of the Streatham community. We are a group of people from a range of local churches who want to share God's love for the people of Streatham. We care about our community and want to bring about positive change We have a range of initiatives going and we hope to expand these. You may have already met our team of Street Pastors who go out late at night each month to look out for those in need. We have also helped out residents in the community in practical ways such as gardening and painting. We have held some community events including an open-air carol service and an election hustings.
Next Events
Love #Streatham Family Fun Day
Join us on Saturday 15th July 2017 from 2pm-5pm on Streatham Common
Free Family Fun Day with Love Streatham is here! Come along and join us for another fantastic day of games and fun, all activities are free (Bungee Run, Bouncy Castles, Face Painting, Penalty Shoot Out & more!)
2pm-5pm. Saturday 15th July 2017 on Streatham Common.
Love #Streatham Church on The Common
Annual Love Streatham Church on the Common
Join us on Sunday 16th July 2017 from 10.30 am -12 pm for an open-air celebration service.
Drama, music, messy church and more
Testimonials
Pentecost Concert 2016

"Wonderful event Simi, We thoroughly enjoyed the variety and diversity. Thanks". Susann
"Such beautiful audience. Thanks you Simi". Francis
"Hi Simi. Great show! Thanks for all your hard work. God bless". Rolston
"Well done Simi, it was a great event." Margaret
"It was a pleasure and a fantastic event for us! God bless you my sister!" Jhonatan
"What a great night! Well done Simi". Phil T
"Pentecost concert and Eurovision all on one night, wow! Well done in all the organising of a very special eve." Arthur
"Great event we should do it again next year and bigger too! Pente-fest" Akin
"Dear Simi, A big thank you" from Victor, NCC whose Choir is in talks with BBC's The Voice based on being sported at the Concert

Chuka Umunna

"Local groups carrying out social action projects are well placed to make a big difference in the community, so I am very grateful for the hard work and dedication of the church members involved in Love Streatham."

Helen Smith

"We came along as a family on the afternoon and we thought it was a fabulous event. Lots to do for the children, they really enjoyed it, and so did we. Thank you for giving so much to the community"

Naomi Meade

"The enthusiasm from the Love Streatham team really helped the young people engage in the painting project. The volunteers worked happily alongside the children meaning we got the playground painted as a team. It was a really amazing day. Thanks so much for your help."